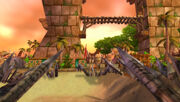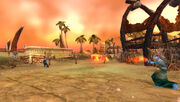 Darkspear Isle is the largest island of the Echo Isles. It is here the Darkspear Trolls rebuilt their home after defeating Zalazane. The island consists of the training grounds and the Darkspear Hold.
Ever since defeating the traitorous witch doctor Zalazane, Vol'jin and his tribe have worked tirelessly to fortify their home on Darkspear Isle. Covered in a network of huts and bridges, this jungle island has become a symbol of the tribe's glory, albeit at a time when the trolls' destiny remained uncertain due to political tension between Vol'jin and Warchief Garrosh Hellscream. Regardless, the Darkspear tribe has vowed to stand firm and face whatever challenges lie ahead.[1]
References
Edit
Ad blocker interference detected!
Wikia is a free-to-use site that makes money from advertising. We have a modified experience for viewers using ad blockers

Wikia is not accessible if you've made further modifications. Remove the custom ad blocker rule(s) and the page will load as expected.