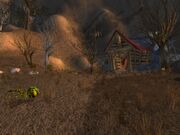 Darkmist Cavern is the name for a small mine in northwest Dustwallow Marsh that has become completely overrun with the terrifyingly large Darkmist Spiders. The inhabitants of Dustwallow can't seem to agree on whether the spiders were named after the cavern or if it's the other way around.
"Swamp Eye" Jarl sends adventurers here in order to collect spider eyes for some soup.
Ad blocker interference detected!
Wikia is a free-to-use site that makes money from advertising. We have a modified experience for viewers using ad blockers

Wikia is not accessible if you've made further modifications. Remove the custom ad blocker rule(s) and the page will load as expected.