Not yet released!

This article or section includes information about announced content that has not been released yet. The expected release date is unknown.
Please remove this template when the content has gone live.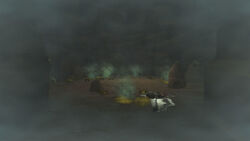 The Dark Hollow[53.6, 76.1][49.9, 24.5] is a cave found at the base of the Cliffs of Despair. It is accessed from the Krasarang Wilds, though considered part of the Valley of the Four Winds, with the entrance located northwest of the Ruins of Dojan.
From the Valley of the Four Winds, players descend from Winds' Edge[51.2, 77.6] very close to the cave. The Cave Horrors do not awaken unless players are looting the [Malted Cave Barley] for The Quest for Better Barley.
Inhabitants
Patch changes
External links