Damaged Diving Gear

"This diving gear would certainly kill anyone who tried to use it in its present condition."
Damaged Diving Gear as a quest objective
Edit
This item is an objective of

 [37] Secondhand Diving Gearω τ ϖ.
As an object
Edit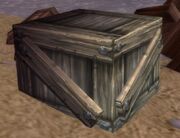 The Damaged Diving Gear is located on the island next to

 Renn McGill in the Dreadmurk Shore in Dustwallow Marsh. [62.4, 18.9]
External links
Edit
Ad blocker interference detected!
Wikia is a free-to-use site that makes money from advertising. We have a modified experience for viewers using ad blockers

Wikia is not accessible if you've made further modifications. Remove the custom ad blocker rule(s) and the page will load as expected.