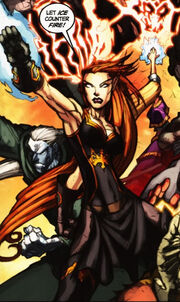 Dalynnia Wrathscar was a mage and member of the Scryers. She gained the personal trust of Khadgar, who sent her to join the New Council of Tirisfal in Theramore Isle. After the Council shared their powers with the new Guardian, Med'an, Meryl Felstorm lost control of the Dreadlord Kathra'Natir. The demon followed the source of Med'an's power into the Twisting Nether, where he proceeded to drain all of Dalynnia's arcane magic. After sucking her dry, he tossed her body off the ledge.
Despite his mixed heritage... or because of it, Med'an will be the Guardian.
Ad blocker interference detected!
Wikia is a free-to-use site that makes money from advertising. We have a modified experience for viewers using ad blockers

Wikia is not accessible if you've made further modifications. Remove the custom ad blocker rule(s) and the page will load as expected.