Ad blocker interference detected!
Wikia is a free-to-use site that makes money from advertising. We have a modified experience for viewers using ad blockers

Wikia is not accessible if you've made further modifications. Remove the custom ad blocker rule(s) and the page will load as expected.
Dal'Rend's Arms
(2) Set: Increases attack power by 50.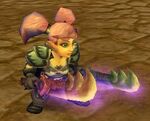 Dal'Rend's Arms Totals
Armor
Stats
Resistance
Other Effects
100
Agi: 0
Int: 0
Spi: 0
Sta: 0
Str: 4
Arcane: 0
Fire: 0
Frost: 0
Holy: 0
Nature: 0
+14 critical strike rating.


Passive: Increased Defense +7.
Bonuses gained from equiping multiple set items:
2: +50 Attack Power
This info not included in set totals
External links
Edit