Dahlia's Tears

"A feeling of hope washes over you as you touch the flower."
Dahlia's Tears can be found around the Ruby Dragonshrine in Dragonblight.
As a quest objective
Edit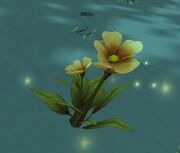 This item is an objective for the quest

 [80] Dahlia's Tears.
The item can actually be found just
outside
of the
Ruby Dragonshrine
, where Alliance or Horde NPCs are defending against the Undead which rush at them from the Dragonshrine area. One has been found at
[43.8, 51.5]
.
The Dahlia's Tears is a flower that grows up, instantly, when the ground is cleanesed by Ruby Drake's flames. It's confirmed in the Battle of Angrathar the Wrathgate cutscene.
External links
Edit