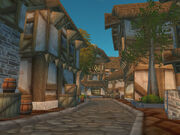 Cut-Throat Alley is a currently unpopulated alley of the city of Stormwind. The alley is technically located in the Dwarven District; however, it does not share the smoggy ambiance of the District.
Cut-Throat Alley can be reached by passing through The Shady Lady in The Canals on the Dwarven side, between the Dwarven District and Cathedral Square; its coordinates are [64, 46]. Its only features are the backdoor of The Shady Lady and a two-story, one-bedroom residence.
Ad blocker interference detected!
Wikia is a free-to-use site that makes money from advertising. We have a modified experience for viewers using ad blockers

Wikia is not accessible if you've made further modifications. Remove the custom ad blocker rule(s) and the page will load as expected.