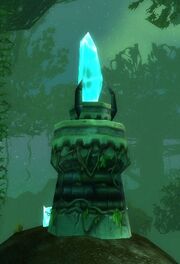 Crystal Pylons are ancient constructions in Un'Goro Crater which can be used to exchange

 [Blue Power Crystal]s,

 [Green Power Crystal]s,
 [Red Power Crystal]s and
 [Yellow Power Crystal]s for useful consumables.
Prerequisites
Edit
In order to make the pylons generally available, the quests

 [53] Crystals of Powerω τ ϖ and

 [53] Making Sense of Itω τ ϖ must be completed. The latter grants you with

 [Crystal Pylon User's Manual], which details what crystal recipes are available and from which pylon.
Each recipe creates 6 consumables and requires 10 units of each of two different colors of Power Crystals as follows:
See also: Power crystals.
Ad blocker interference detected!
Wikia is a free-to-use site that makes money from advertising. We have a modified experience for viewers using ad blockers

Wikia is not accessible if you've made further modifications. Remove the custom ad blocker rule(s) and the page will load as expected.