The subject of this article was removed from World of Warcraft in patch 3.0.2.

This includes items and quests that can no longer be obtained.
The in-game information in this article is kept purely for historical purposes and should probably not be under any other categories.
Cryptfiend Silk Cloak

Item Level

83

212 Armor
+14 Stamina
Requires level 60
Equip: Increases defense rating by 10.
Equip: Increases your dodge rating by 12.
Equip: Increases your hit rating by 10.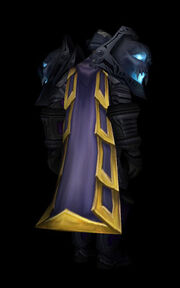 Cryptfiend Silk Cloak is an epic cloak with high armor, stamina and a bit of defense, hit and dodge. This is generally good for tanks, especially Druids due to the high amount of armor and the complementary stats.
This item drops from Anub'Rekhan in Naxxramas.
Drop rate is approximately 20%.
External links
Edit