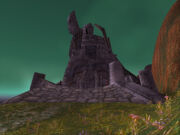 The Scarlet Watch Post is a guard tower located in northeastern Tirisfal Glades, just north of the Scarlet Monastery. Its maintenance despite its remote location is solely to prevent enemies of the Scarlet Crusade from assaulting the monastery from its less defensible north side. It's one of the four Crusader's Outpost towers in Tirisfal Glades. This particular tower is commanded by Captain Melrache.
Ad blocker interference detected!
Wikia is a free-to-use site that makes money from advertising. We have a modified experience for viewers using ad blockers

Wikia is not accessible if you've made further modifications. Remove the custom ad blocker rule(s) and the page will load as expected.