The subject of this article was removed from World of Warcraft after the Mists of Pandaria cleared.

The in-game information in this article is kept purely for historical purposes and may not need to remain under any other categories.

Crusade is a talent in the Retribution tree, you will need to spend 3 points in Retribution to max it.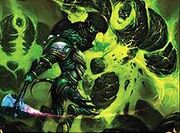 Rank table
Edit