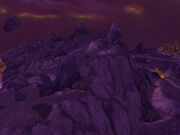 The Crumbling Waste is the barren, broken area at the edge of Netherstorm. It is populated by rock flayers, blood elves, and nether rays, all of which are ready to attack any unwary traveler.
Ad blocker interference detected!
Wikia is a free-to-use site that makes money from advertising. We have a modified experience for viewers using ad blockers

Wikia is not accessible if you've made further modifications. Remove the custom ad blocker rule(s) and the page will load as expected.