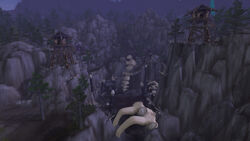 The Crucible of Carnage[50.6, 58.2] can be found near the center of the Twilight Highlands. It is the Cataclysm version of the Ring of Blood and the Amphitheater of Anguish. The associated quest chain, given by Gurgthock, begins at level 84 and rewards experience and gold. After the last quest, players are also rewarded with a rare item level 333 weapon.
Inhabitants
Edit
  

Gurgthock

 <Fight Promoter> (quest giver)
  

Zena

 <Wodin's Warrior Kitten>
Crucible fighters
Related Achievements
Edit
Patch changes
Edit
External links
Edit
Ad blocker interference detected!
Wikia is a free-to-use site that makes money from advertising. We have a modified experience for viewers using ad blockers

Wikia is not accessible if you've made further modifications. Remove the custom ad blocker rule(s) and the page will load as expected.