Crown of Destruction

Item Level

76

447 Armor
+23 Stamina
+9 Intellect
+9 Spirit
+10 Fire Resistance
Durability 85 / 85
Requires level 60
Equip: Improves critical strike rating by 28.
Equip: Increases attack power by 44.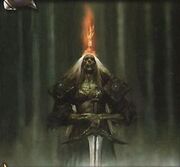 Crown of Destruction is highly sought after by shamans, hunters, and even warriors and paladins.
Crown of Destruction drops off Ragnaros in the Molten Core at an estimated rate of 15%.
Though this item drops from Ragnaros in Molten Core, it resembles the fiery crown worn by Lord Victor Nefarius, the human form of Nefarian, as seen in Upper Blackrock Spire and Blackwing Lair.
Patch changes
Edit
External links
Edit
Ad blocker interference detected!
Wikia is a free-to-use site that makes money from advertising. We have a modified experience for viewers using ad blockers

Wikia is not accessible if you've made further modifications. Remove the custom ad blocker rule(s) and the page will load as expected.