Crown of Dath'Remar

Item Level

159

1611 Armor
+91 Stamina
Socket Bonus: +6 Stamina
Durability 100 / 100
Requires level 70
Equip: Increases defense rating by 32.
Equip: Increases your dodge rating by 53.
Equip: Increases your parry rating by 33.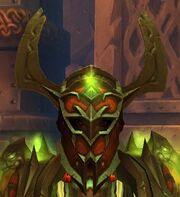 Crown of Dath'Remar is an epic plate helm for tanks. It is also the best tanking helm before

Wrath of the Lich King. This helm might be named after or indeed is the helm of Dath'Remar Sunstrider.
1 x
 [Crown of Anasterian]
1 x
 [Sunmote]
Yrma <Transmuter of Sin'dorei Relics> on the Isle of Quel'Danas.
External links
Edit
Ad blocker interference detected!
Wikia is a free-to-use site that makes money from advertising. We have a modified experience for viewers using ad blockers

Wikia is not accessible if you've made further modifications. Remove the custom ad blocker rule(s) and the page will load as expected.