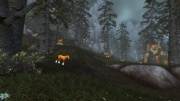 The Crowley Stable Grounds[41.3, 75.2] can be found near the Crowley Orchard in Gilneas. In an attempt to help evacuate the citizens of Duskhaven, Gwen Armstead sends players to enlist the aid of Lorna Crowley at her orchard. She is more than happy to allow players to round up a few horses for the effort, provided they aren't killed by the roaming ettin first.
Little, if anything, of the Stable Grounds survives the stronger earthquakes. The exception is a small strip of land that stretches into the hills, but all the horses and the ettin have vanished, presumably heading for higher ground.
Inhabitants
Edit
Patch changes
Edit
External links
Edit
Ad blocker interference detected!
Wikia is a free-to-use site that makes money from advertising. We have a modified experience for viewers using ad blockers

Wikia is not accessible if you've made further modifications. Remove the custom ad blocker rule(s) and the page will load as expected.