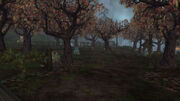 Crowley Orchard[37.5, 74.2] is an apple orchard located near the town of Duskhaven in Gilneas. The farm is owned by the Crowley family, as the name suggests. Lorna Crowley is the lone occupant, still distraught over what became of her father in Gilneas City, and the only visitor she reputedly sees is Krennan Aranas.
Upon hearing of the evacuation underway of Duskhaven and the surrounding areas, she is ready to lend a helping hand. Players assist her in rounding up some of the horses at the neighboring Crowley Stable Grounds whilst avoiding a roaming ettin.
Nothing of the Orchard survives the stronger earthquakes that follow, the lands swallowed by the sea.
Inhabitants
Edit
Patch changes
Edit
External links
Edit
Ad blocker interference detected!
Wikia is a free-to-use site that makes money from advertising. We have a modified experience for viewers using ad blockers

Wikia is not accessible if you've made further modifications. Remove the custom ad blocker rule(s) and the page will load as expected.