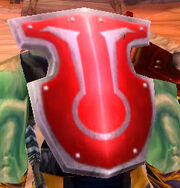 Crest of Supremacy is a rare large red shield that has the bonuses of stamina, intellect, and mana regen. If a player is lucky enough to find one then this shield can last them until at least level 60.
Crest of Supremacy drops from Shade of Eranikus in the Temple of Atal'Hakkar. The drop rate is around 18%.
This shield is best used by paladins and shamans, because of its caster-focused stat boosts. Quite a few warriors still use this shield at level 60 until they can get either a Barrier Shield or a Draconian Deflector simply because of the high block value as well as the additional stamina.
External links
Edit
Ad blocker interference detected!
Wikia is a free-to-use site that makes money from advertising. We have a modified experience for viewers using ad blockers

Wikia is not accessible if you've made further modifications. Remove the custom ad blocker rule(s) and the page will load as expected.