Crawling Claw

Use: Teaches you to summon this companion.
Sell Price: 5
Crawling Claw
is a rare tol'vir
archaeology
artifact and companion that requires 150 fragments to assemble.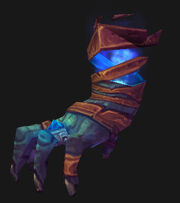 Description
Edit
Crawling Claw
A legend among the tol'vir tells of a wicked djinn whom the Ramkahen sought to destroy. In an attempt to prevent his own death, the djinn tried to transfer his spirit into the body of a monkey. He was slain right in the middle of the transference, and only a fraction of his essence had moved over - only enough to possess the monkey's paw.
Patch changes
Edit

Patch 4.0.3 (15-Nov-2010): Added.

External links
Edit

Kemp Guides
Ad blocker interference detected!
Wikia is a free-to-use site that makes money from advertising. We have a modified experience for viewers using ad blockers

Wikia is not accessible if you've made further modifications. Remove the custom ad blocker rule(s) and the page will load as expected.