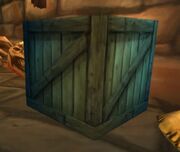 The Crate of Ingots is located in Shadowfang Keep, in the stables at the courtyard. If you free Landen Stillwell from the cell next to Deathstalker Adamant, you can ask him for the location.
Objective of
Edit
Contains [Crate of Bloodforged Ingots] for the quest

[23D] The Path of the Adept.
External links
Edit