For the mob, see Coyote (mob).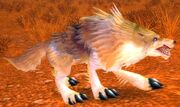 Background
Edit
Pronounced "kai-oh-tee". In the real world, coyotes are smaller with big ears and more dog-like than wolves, but in Azeroth they look just like wolves save for size and coloration (this however may only be a game mechanic). Various types of coyotes are found in Westfall and the Badlands.
Ad blocker interference detected!
Wikia is a free-to-use site that makes money from advertising. We have a modified experience for viewers using ad blockers

Wikia is not accessible if you've made further modifications. Remove the custom ad blocker rule(s) and the page will load as expected.