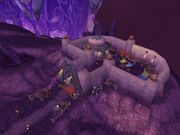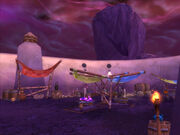 Cosmowrench is a small goblin outpost having foundation in the easternmost part of Netherstorm, very close to Tempest Keep. It resembles a miniature version of Area 52. Originally, only the flight master, Harpax, was present here, but others were later added, including a couple of vendors, quest givers, a barber shop and the ever-present goblin bruisers.
Things to do
Edit
REDIRECT Template:Map/Coords
Travel Connections
Edit

Patch 2.1.0 (22-May-2007): A Forge and Anvil has been added to Cosmowrench in Netherstorm.

Ad blocker interference detected!
Wikia is a free-to-use site that makes money from advertising. We have a modified experience for viewers using ad blockers

Wikia is not accessible if you've made further modifications. Remove the custom ad blocker rule(s) and the page will load as expected.