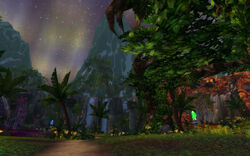 The Conservatory of Life is a subzone of Ulduar. Freya resides within here. It is available after the defeat of Auriaya at the Observation Ring. The Conservatory's entrance is at the 12 o'clock position of the ring (due north) and is denoted by the green leaves at the door. The Conservatory of Life teleporter is also found at the entrance to the Conservatory.
Ad blocker interference detected!
Wikia is a free-to-use site that makes money from advertising. We have a modified experience for viewers using ad blockers

Wikia is not accessible if you've made further modifications. Remove the custom ad blocker rule(s) and the page will load as expected.