Competitor's Tabard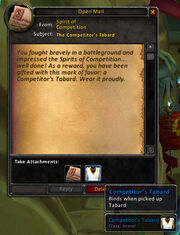 The Competitor's Tabard is awarded to players who participate in a battleground match during any of the winter or summer Olympics.
Inspiration
Edit
The tabard was first inspired and implemented for the 2008 Summer Olympics held in China.
External links
Edit
Ad blocker interference detected!
Wikia is a free-to-use site that makes money from advertising. We have a modified experience for viewers using ad blockers

Wikia is not accessible if you've made further modifications. Remove the custom ad blocker rule(s) and the page will load as expected.