Competitor's Souvenir

Use: Teaches you how to summon this companion.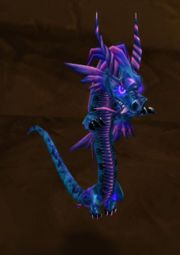 The Competitor's Souvenir is a special companion, only available on servers in China.
During the 2008 Spirit of Competition event, 500 people per day was randomly selected from among those that completed several high level in-game goals during the event, such as raising a craft profession from 350 to 375. The pet, 'Essence of Competition', is a small blue and purple Asian dragon. The model is the same as the pet contained in the [Gold Medallion].
A sample of this companion can be found in the battle rooms in Ironforge and in Orgrimmar, accompanying NPCs that are nominally there to redeem the code for the pet. The presence of these NPCs on US and EU servers is a bug; This pet will not be released on US and EU servers.
External links
Edit

WarcraftPets

Armory (CN)
Ad blocker interference detected!
Wikia is a free-to-use site that makes money from advertising. We have a modified experience for viewers using ad blockers

Wikia is not accessible if you've made further modifications. Remove the custom ad blocker rule(s) and the page will load as expected.