Coilskar General can be found in Black Temple.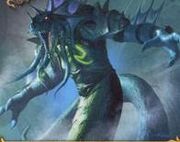 Abilities
Edit
Booming Voice (Physical) - Increases the melee attack speed and reduces the casting time of nearby friendly targets by 25% for 30 sec.
Free Friend (Physical} - Frees a nearby ally from the enemy's incapacitating effects and makes them immune to incapacitating effects for 5 seconds.
External links
Edit
Ad blocker interference detected!
Wikia is a free-to-use site that makes money from advertising. We have a modified experience for viewers using ad blockers

Wikia is not accessible if you've made further modifications. Remove the custom ad blocker rule(s) and the page will load as expected.