Cockroach

Item Level

30

Use: Teaches you how to summon this companion.
Vendor 50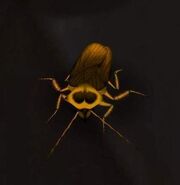 Cockroach teaches you how to summon a companion named Cockroach.
Horde players can buy them as pets from Jeremiah Payson in Undercity, who is found sitting under a stairwell in the center of the Trade District.
They are available for sale to all by Dealer Rashaad in Stormspire in Netherstorm.
A cockroach (aka roach) is a small, brown, disgusting insect that can be found skittering about in the darkest corners of Azeroth. Since they can take no damage, it is assumed they are capable of surviving in the most uninhabitable of conditions.
Tainted Cockroaches are found in Felwood.
Plagued Roaches were part of the Zombie Infestation.
External links
Edit

WarcraftPets

Kemp Guides
Ad blocker interference detected!
Wikia is a free-to-use site that makes money from advertising. We have a modified experience for viewers using ad blockers

Wikia is not accessible if you've made further modifications. Remove the custom ad blocker rule(s) and the page will load as expected.