Not yet released!

* This article or section includes information about announced content that has not been released

yet.

The expected release date is

unknown

.

Please remove this template when the content has gone live.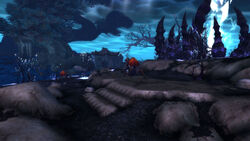 The Clutches of Shek'zeer is part of the Horrid March in the northern part of the Dread Wastes. This section lies south of Kor'vess and southeast of Rikkitun Village. A number of large mantid can be found on the higher rise.
On the lower half, within the southern extension of the Horrid March, a large clutch can be found with small mantid swarms scurrying about.
Inhabitants
Upper
Lower
Patch changes