Claws of Attack are the standard form of increasing a heroes' damage in Warcraft III: Reign of Chaos.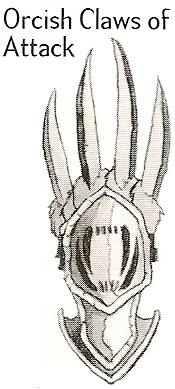 This section concerns content exclusive to the Warcraft RPG, and thus unlikely to be canon.
This traditional orc weapon consists of blades that emulate a dire wolf's 12-inch claws. The wielder grips the hilt in a fist and the blades extend from the back of his hand over his knuckles. Orc claws of attack are often attached to gauntlets or gloves decorated with dire wolf fur.[1] (WoWRPG 185)
Rank table
Edit
| Damage | Sell |
| --- | --- |
| 3 | 37 |
| 6 | 50 |
| 9 | 200 |
| 12 | 250 |
| 15 | 400 |
Claws of Attack +3
Edit
Claws of Attack +6
Edit
Claws of Attack +9
Edit
Akama has one in Lord of Outland, chapter 6 of that campaign.
Arthas and Anub'arak can find one in The Return to Northrend, chapter 4 of the undead campaign of the Frozen Throne Legacy of the Damned
Claws of Attack +12
Edit
Claws of Attack +15
Edit
External links
Edit


Battle.net
Permanent Hero Items


Battle.net
Artifact Hero Items
Ad blocker interference detected!
Wikia is a free-to-use site that makes money from advertising. We have a modified experience for viewers using ad blockers

Wikia is not accessible if you've made further modifications. Remove the custom ad blocker rule(s) and the page will load as expected.