Cinderbloom is found in all the new Cataclysm zones except for Vashj'ir. It grows primarily in scorched, fiery areas.
Cinderbloom as an ingredient
Edit
Cinderbloom is used in the following recipes:
Alchemy
Cinderbloom...?
Edit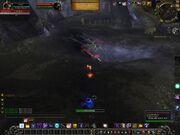 In Tol Barad, Cinderbloom NPC's have been found and can be targeted, killed, and even [Mind Controlled] by Priests. They are level 1, and if killed, do not drop loot. This is most likely a bug which will be removed.
Patch changes
Edit
External links
Edit

WoW Farming - Cinderbloom
Farming maps and information
Ad blocker interference detected!
Wikia is a free-to-use site that makes money from advertising. We have a modified experience for viewers using ad blockers

Wikia is not accessible if you've made further modifications. Remove the custom ad blocker rule(s) and the page will load as expected.