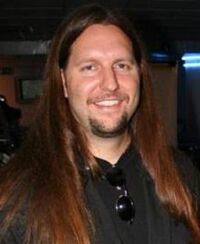 Chris Sigaty is a Blizzard Employee, and the lead producer of Starcraft II.
While playing live, he uses PRS Guitars or Gibson Les Pauls.
In World of Warcraft, he's known as the guitarist Sig Nicious.
External links
Edit

Giant Bomb
Chris Sigaty
Ad blocker interference detected!
Wikia is a free-to-use site that makes money from advertising. We have a modified experience for viewers using ad blockers

Wikia is not accessible if you've made further modifications. Remove the custom ad blocker rule(s) and the page will load as expected.