Ad blocker interference detected!
Wikia is a free-to-use site that makes money from advertising. We have a modified experience for viewers using ad blockers

Wikia is not accessible if you've made further modifications. Remove the custom ad blocker rule(s) and the page will load as expected.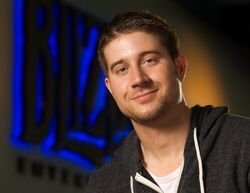 Chris Robinson is the World of Warcraft Art Director oversees the art team. He is currently coordinating the production of art for the 0600

latest expansion.
From the BlizzCon 2013 US Press Kit:[1][2]
In his role as an art director at Blizzard Entertainment, Chris Robinson oversees the World of Warcraft® art team and works to maintain a consistent style and a high level of artistic quality for the game. He is currently coordinating the production of art for World of Warcraft's latest expansion.
Robinson started at Blizzard in 2006 as a lead character artist working on the first World of Warcraft expansion, World of Warcraft: The Burning Crusade™. Before this, he held other positions in the game industry, creating art for titles such as The Bard's Tale and Lord of the Rings: Fellowship of the Ring.
In his spare time, he enjoys playing games of all sorts, as well as painting and drawing.
Robinson holds an associate's degree in applied art from the Art Institute of Seattle.
References
Edit
^ BlizzCon 2013 US Press Kit included on USB flash drive given to press