Chloe Curthas can be found in the War Quarter in the Forsaken's Undercity.
Relatives
Edit
This section includes speculation, observations or opinions possibly supported by lore or by Blizzard officials of characters that might be related.
It should not be taken as representing official lore.
She may be related to Angela Curthas.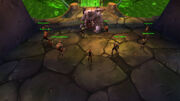 External links
Edit