Ad blocker interference detected!
Wikia is a free-to-use site that makes money from advertising. We have a modified experience for viewers using ad blockers

Wikia is not accessible if you've made further modifications. Remove the custom ad blocker rule(s) and the page will load as expected.
This vendor offers a repair service.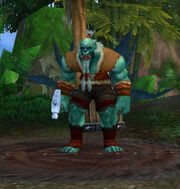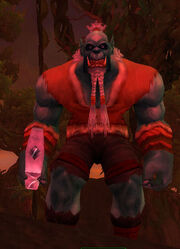 Chawg is first encountered by goblin players on the Lost Isles, serving as an armor vendor in various locations, including when he is fighting the Alliance at the Alliance Beachhead[24.5, 63.4]. He later drops this role and becomes a quest giver at Valormok[14, 64] in Azshara.
Azshara
Lost Isles only.
Name
Lvl req
Type
Slot
Cost
 

[

Recovered Knit Belt

]

5
Cloth Armor
Waist
1 43
 

[

Recovered Knit Boots

]

5
Cloth Armor
Feet
2 15
 

[

Recovered Knit Bracers

]

5
Cloth Armor
Wrist
1 44
 

[

Recovered Knit Gloves

]

5
Cloth Armor
Hands
1 44
 

[

Recovered Knit Pants

]

5
Cloth Armor
Legs
2 90
 

[

Recovered Knit Vest

]

5
Cloth Armor
Chest
2 91
 

[

Salvaged Chain Armor

]

5
Mail Armor
Chest
4 51
 

[

Salvaged Chain Belt

]

5
Mail Armor
Waist
2 26
 

[

Salvaged Chain Boots

]

5
Mail Armor
Feet
3 42
 

[

Salvaged Chain Bracers

]

5
Mail Armor
Wrist
2 28
 

[

Salvaged Chain Gloves

]

5
Mail Armor
Hands
2 13
 

[

Salvaged Chain Leggings

]

5
Mail Armor
Legs
4 27
 

[

Water-Stained Leather Belt

]

5
Leather Armor
Waist
1 82
 

[

Water-Stained Leather Boots

]

5
Leather Armor
Feet
2 75
 

[

Water-Stained Leather Bracers

]

5
Leather Armor
Wrist
1 84
 

[

Water-Stained Leather Gloves

]

5
Leather Armor
Hands
1 84
 

[

Water-Stained Leather Harness

]

5
Leather Armor
Chest
3 71
 

[

Water-Stained Leather Pants

]

5
Leather Armor
Legs
3 72
Patch changes
Edit
External links
Edit