The Champion's Dragonhide Headguard is the leather helmet of the Horde PvP-Rare Druid set called the Champion's Refuge.
This item can be purchased from First Sergeant Hola'mahi located in the Hall of Legends in Orgrimmar. It costs 6375 Honor Points and 30 Alterac Valley Marks of Honor.
This item replaced the Champion's Chain Helm which was part of the Champion's Sanctuary.
External links
Edit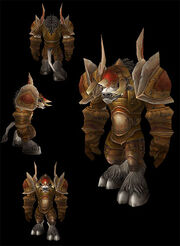 Ad blocker interference detected!
Wikia is a free-to-use site that makes money from advertising. We have a modified experience for viewers using ad blockers

Wikia is not accessible if you've made further modifications. Remove the custom ad blocker rule(s) and the page will load as expected.