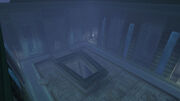 The Chamber of the Moon[33.8, 18.8] sits below the Obelisk of the Moon in the northwest area of Uldum. It is by far the largest of the Chambers in the zone and the last that players traverse through while aiding Harrison Jones in reactivating the Obelisks and finding the Coffer of Promise.
Inhabitants
Edit
Only in lower level.
Initial phase
During

I'll Do It By Hand

(replaces above mobs)
Quest givers
After completing I'll Do It By Hand, the Chamber is empty.
Patch changes
Edit
External links
Edit
Ad blocker interference detected!
Wikia is a free-to-use site that makes money from advertising. We have a modified experience for viewers using ad blockers

Wikia is not accessible if you've made further modifications. Remove the custom ad blocker rule(s) and the page will load as expected.