104,173pages on
this wiki
Talk

2
Chain Heal
Usable by
Class
Shaman
Properties
Type
Utility
School
Nature
Cooldown
 (GCD 1.5 sec)
Level required
44

TCG

image
Dis voodoo be good for joo, mon. — Toz'jun (TCG)
Chain Heal is a core shaman ability learned at level 44. It is a multi-target healing spell that can heal up to four targets. It works similarly to Chain Lightning in that each target in the 'chain' is healed for less than the one before. It is very mana-efficient and is often seen as the trademark healing spell of restoration shamans.
Modified by
Item Level

45

Major Glyph
Classes: Shaman
Requires level 40
Use: Your Chain Heal heals 1 additional target.
Item Level

25

Minor Glyph
Classes: Shaman (Restoration)
Requires level 25
Use: Permanently teaches you this glyph.

Your Chain Heal now has a watery appearance.
Sell Price: 1
Notes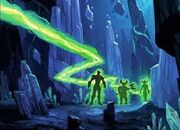 Chain Heal is a 'smart' heal and always jumps to the eligible target with the largest health deficit in range. The bounce radius is 12.5 yards. Since the targets are linked into a chain, targets must be within range of each other, in order of "bounce". The chain cannot jump back to heal the same target more than once.
Chain Heal has a separate chance to crit on each target. The spell also has a separate chance to proc the buff from [Earthliving Weapon] on each target, and can potentially apply Earthliving to all targets affected, greatly increasing the healing done by the spell.
Patch changes
External links