Ad blocker interference detected!
Wikia is a free-to-use site that makes money from advertising. We have a modified experience for viewers using ad blockers

Wikia is not accessible if you've made further modifications. Remove the custom ad blocker rule(s) and the page will load as expected.
Chain Heal

Chain Heal

40 yd  range
28% of base mana
2.5 sec

cast

Heals the friendly target for x, then jumps to heal the most injured nearby party or raid members. Healing is reduced by 10% after each jump. Heals 4 total targets.



Improved Chain Heal (Level 92+)


Increases the healing on the primary target of your Chain Heal spell by 50%.

Usable by
Class
Shaman
Properties
Type
Utility
School
Nature
Cooldown
 (GCD 1.5 sec)
Talents
Specialization
Restoration
Level required
44

TCG

image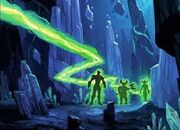 | | | |
| --- | --- | --- |
| " | Dis voodoo be good for joo, mon. | " |
Chain Heal is a core shaman ability learned at level 44 for those with the Restoration specialization. It is a multi-target healing spell that can heal up to four targets. It is very mana-efficient.
Modified by
Edit
Talents
Restoration abilities
Chain Heal is a 'smart' heal and always jumps to the eligible target with the largest health deficit in range. The bounce radius is 12.5 yards. Since the targets are linked into a chain, targets must be within range of each other, in order of "bounce". The chain cannot jump back to heal the same target more than once.
Chain Heal has a separate chance to crit on each target.
Patch changes
Edit
External links
Edit