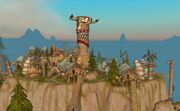 On this rise one may find the inn, bank, flight tower and court of Cairne Bloodhoof. As such, this rise also serves as the center of commerce for Thunder Bluff, and perhaps the most important section for visitors.[1] (LoM 48)
In-game is split in to the Lower Rise, Middle Rise and High Rise.
Ad blocker interference detected!
Wikia is a free-to-use site that makes money from advertising. We have a modified experience for viewers using ad blockers

Wikia is not accessible if you've made further modifications. Remove the custom ad blocker rule(s) and the page will load as expected.