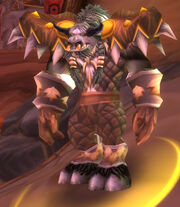 Cenarion Emissary Blackhoof[39.9, 50.5] is a former tauren quest giver located in the Valley of Wisdom in the orcish city of Orgrimmar near Miwana's Longhouse. He stands in front of the portal that will transport players to Moonglade during the quest Warchief's Command: Mount Hyjal!, part of the chain that leads to Mount Hyjal.
Removed quests
Edit


Note: These quests are no longer associated with this particular mob/NPC/item.
Like Gamon, Blackhoof could also be killed by Horde players, but only by changing their standing with the Cenarion Circle to "At War". Blackhoof is now affiliated with the Guardians of Hyjal.
Patch changes
Edit
Patch 4.0.3a

(2010-11-23): Moved from Valley of Strength; level increased with elite status; quests removed.

External links
Edit
Ad blocker interference detected!
Wikia is a free-to-use site that makes money from advertising. We have a modified experience for viewers using ad blockers

Wikia is not accessible if you've made further modifications. Remove the custom ad blocker rule(s) and the page will load as expected.