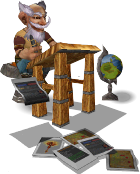 This is the master category, listing lists of things to do. It is similar in intent to the Community Portal "To Do" list, except it is a category.
If you are ever out of things to do, and feel like helping out by making WoWWiki a better place, well...just look below.
Useful "Special": articles
Edit
These would simply have been categorized as "Things to do" if it was possible to categorize special pages. It isn't.
Subcategories
This category has the following 60 subcategories, out of 60 total.
A

A cont.

B

C

F

I

K

L

M

N

O

P

P cont.

Q

R

S

U

V

W
Pages in category "Things to do"
The following 6 pages are in this category, out of 6 total.
Ad blocker interference detected!
Wikia is a free-to-use site that makes money from advertising. We have a modified experience for viewers using ad blockers

Wikia is not accessible if you've made further modifications. Remove the custom ad blocker rule(s) and the page will load as expected.