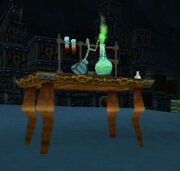 Please make sure the formulas/information you contribute are as correct as possible. Please do not contribute pure theoretical formulas/information. If you are unsure of the data you want to contribute, please use the discussion link to get it confirmed before posting on the main page.
All kinds of comparisons (like how much +heal is the equivalent of 1 mana/5) should go to the Stat comparison article.
Subcategories
This category has the following 3 subcategories, out of 3 total.
Pages in category "Formulas and game mechanics"
The following 83 pages are in this category, out of 83 total.
A

B

C

D

D cont.

E

F

H

I

K

M

N

P

R

S

T

U

V

W
Ad blocker interference detected!
Wikia is a free-to-use site that makes money from advertising. We have a modified experience for viewers using ad blockers

Wikia is not accessible if you've made further modifications. Remove the custom ad blocker rule(s) and the page will load as expected.