Cat Carrier (Calico Cat)

Item Level

30

Use: Teaches you how to summon this companion.
Vendor 50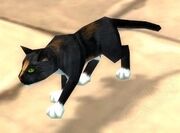 Cat Carrier (Calico Cat) summons a Calico Cat, a Beast Battle pet. It can be purchased from Breanni in Dalaran. It also has an extremely low chance to be contained in multiple containers, the most likely being a 0.5% chance from a Satchel of Exotic Mysteries.
Abilities
Edit
Achievements
Edit
Obtaining a Calico Cat will aid in the completion of the Battle Pet achievement:
Ad blocker interference detected!
Wikia is a free-to-use site that makes money from advertising. We have a modified experience for viewers using ad blockers

Wikia is not accessible if you've made further modifications. Remove the custom ad blocker rule(s) and the page will load as expected.