Cat Carrier (Bombay)
Item Level 20
Use: Teaches you how to summon this companion.
Sell Price: 10
Vendor 40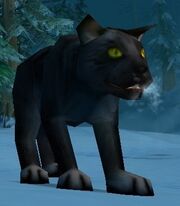 Cat Carrier (Bombay) summons a companion housecat named Bombay.
Source
Bombay cats are available for 40
from Donni Anthania in Elwynn Forest. Only Alliance members may purchase this pet directly. Members of the Horde can only purchase this cat through Neutral Auction Houses.
Beast
A sample "Bombay" exists as a neutral level 1 beast at Donni Anthania's home.
External links

WarcraftPets

Kemp Guides