104,164pages on
this wiki
Talk

5

Cat Carrier (Black Tabby)

Item Level

20

Use: Teaches you how to summon this companion.
Sell Price: 15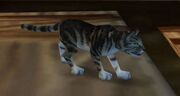 Cat Carrier (Black Tabby) summons a companion housecat called Black Tabby Cat.
Source
This item drops from the rare spawn Dalaran Spellscribe and, much less frequently, by Dalaran Shield Guards, Dalaran Summoners, and Dalaran Theurgists. Dalarans are friendly to the Alliance, so with the exception of the neutral auction houses, this is a Horde-exclusive pet.
Notes
Black Tabbies were once called "Maine Coons", but the name was changed in accordance with the profanity filter.[citation needed] Also, the model used does not accurately depict the common Maine Coon cat. Plus, the real world breed's name is derived from the state of Maine, which does not exist in World of Warcraft.
External links

WarcraftPets

Kemp Guides