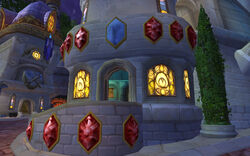 Cartier & Co. Fine Jewelry is a jewelry shop found in the Magus Commerce Exchange in the city of Dalaran. [40, 35] It also serves as a place where jewelcrafters go to learn new cuts.
 

Tiffany Cartier

 <Jewelry & Jewelcafting Supplies>
 

Timothy Jones

 <Grand Master Jewelcrafting Trainer>
 

Harold Winston

 <Jewelry Vendor>
Ad blocker interference detected!
Wikia is a free-to-use site that makes money from advertising. We have a modified experience for viewers using ad blockers

Wikia is not accessible if you've made further modifications. Remove the custom ad blocker rule(s) and the page will load as expected.