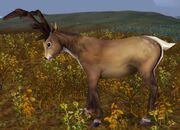 Caribou are large deer found in Northrend. They are hunted by the furbolgs of the Grizzly Hills.LoM #?
Known caribou
This section concerns content exclusive to Wrath of the Lich King.
In the Wrath of the Lich King, they are found in Borean Tundra.
Notes
In real life, reindeer is another term for caribou. In-game, they represent separate NPCs.