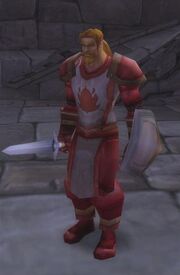 Captain Perrine is a level 9 human member of the Scarlet Crusade stationed in a ruined guard tower in Tirisfal Glades.
Perrine's Chest contains the stolen Egalin's Grimoire, a text on summoning voidwalkers. Additionally, Executor Zygand wants Perrine killed.
One of three Scarlet Crusade captains named after a former coach of the Los Angeles Kings (Don Perry).
Objective of
Edit
External links
Edit
Ad blocker interference detected!
Wikia is a free-to-use site that makes money from advertising. We have a modified experience for viewers using ad blockers

Wikia is not accessible if you've made further modifications. Remove the custom ad blocker rule(s) and the page will load as expected.