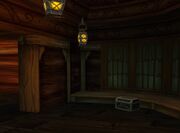 Captain's Chest is an object found in the Lost Rigger Cove subzone of Tanaris[76, 45], and requires the [Captain's Key] to open. The key is sometimes found inside a [Pirate's Footlocker], which occasionally drop off of Southsea Pirates.
The chest is found on the left pirate ship at Lost Rigger Cove in Tanaris. Go down a set of stairs to the stern cabin of the ship behind the swashbucklers.
Despite its name, this object is not related to the quest

 [42G] The Captain's Chest.
External links
Edit